ASI Show Reopens Chicago Conventions; Coverings Takes the Floor at Orange County Convention Center
[ad_1]
ASI Show Reopens Chicago Conventions; Coverings Takes the Floor at Orange County Convention Center

As the trade show industry continues to forge ahead with health and safety still very much top-of-mind, major shows across the U.S. have been pulling off successful in-person iterations. Here are two significant events that happened in Chicago and Orlando recently. 
ASI Show
As the first trade show to take place at McCormick Place since Chicago's shutdown, the ASI Show was also the first large, in-person show for the $20.7 billion promotional products industry in more than 15 months.
Held July 14-15 and hosted by the Advertising Specialty Institute, the show's attendance exceeded expectations, with more than 3,500 promotional products industry professionals from the Midwest and beyond converging upon the massive venue for much-needed face-to-face connections, networking and deal-making.  
"By noon on our first exhibit day, we had 1,600 attendees already on the show floor and the buzz was happily deafening as we helped suppliers and distributors drive their business, in-person," said Timothy M. Andres, president and CEO of ASI. "People are ecstatic to be back together again and we couldn't be happier with the show results."
ASI also attracted 290 exhibiting companies, including 48 new exhibitors and more than 2,400 distributors, featuring the newest logoed promo items and ideas for post-COVID client promotions across an energetic showfloor. 
"People are hungry to get out and find new suppliers," said Exhibitor Celil Kes of San Diego's Let's Support. "This is the first 'real' show. Compared to the 2019 Chicago show, I got two to three times more leads – I'm happy."
The event also wowed a packed ballroom of nearly 350 suppliers and distributors with an inspiring keynote delivered by FOX NFL Sunday co-host and analyst Terry Bradshaw, who shared anecdotes, jokes and his principles for success.  
Along with the Bradshaw keynote, attendees took advantage of an opening day keynote by motivational speaker Dan Thurmon, a lakefront reception and a Product Showcase featuring 100 of the newest promo products. The show's Education Day, which featured four tracks and 20 all-new sessions, attracted 386 people interested in learning about sales, marketing, design and social media.  
Not only did ASI's return to the Windy City for its 22nd Chicago trade show provide the local tourism and hospitality industries with a much-needed boost, but it was also an important step in helping entrepreneurs and small-business owners recover after one of the toughest years in the promo industry's history, which saw a 20% drop in nationwide sales in 2020 alone. 
ASI will host three shows in 2022, including Jan. 4-6 in Orlando; Jan. 31-Feb. 2 in Fort Worth, Texas; and July 19-21 in Chicago.
Coverings
Last month, the Orange County Convention Center in Orlando welcomed back Coverings – North America's largest international ceramic tile and natural stone expo and conference that attracts thousands of distributors, retailers, fabricators, contractors, specifiers, architectural and design professionals, builders, real estate developers. 
Held July 7-9 and managed by Taffy Event Strategies, Coverings 2021 drew in nearly 10,000 registered attendees and featured the latest trends, innovations and products in the tile and stone industry. The event collocated with the National Wood Flooring Association's (NWFA) 2021 Wood Flooring Expo, which welcomed nearly 2,500 attendees.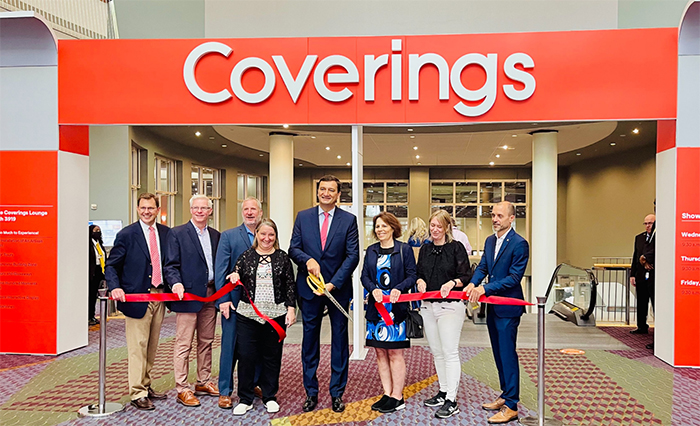 After a two-year hiatus, the show provided attendees and exhibitors with the opportunity to reconnect in-person with peers as well as explore international pavilions, showfloor exhibits, live installation demos, educational sessions and discover new products, applications and techniques from leading industry organizations.
"Coverings 2021 was a successful and highly productive event for our exhibitors and attendees alike," said Jennifer Hoff, president of Taffy Event Strategies. "The regional, national and international feedback we received from architects, designers, distributors, retailers, contractors, and installers was that Coverings well-served them as the year's must-see tile and stone industry event." 
Designed to provide attendees with the knowledge, solutions and business-building resources required to excel in the tile and stone industry in 2021 and beyond, the show's premium educational opportunities included continuing education units, demonstrations, roundtables, live interviews with industry thought-leaders and industry forums. 
"We were very pleased with the results of collocating with Coverings for our expo this year, and the feedback from attendees and our exhibitors has been fantastic," said Michael Martin, president and CEO of NWFA. "While COVID-19 had its impacts and restrictions, the level of engagement and the quality of interactions had at this year's NWFA Expo was unparalleled."
Coverings is slated to return to the OCCC in 2023, 2025, 2027, 2028 and 2029. 
Don't miss any event-related news: Sign up for our weekly e-newsletter HERE and engage with us on Twitter, Facebook, LinkedIn and Instagram!


[ad_2]
Source link